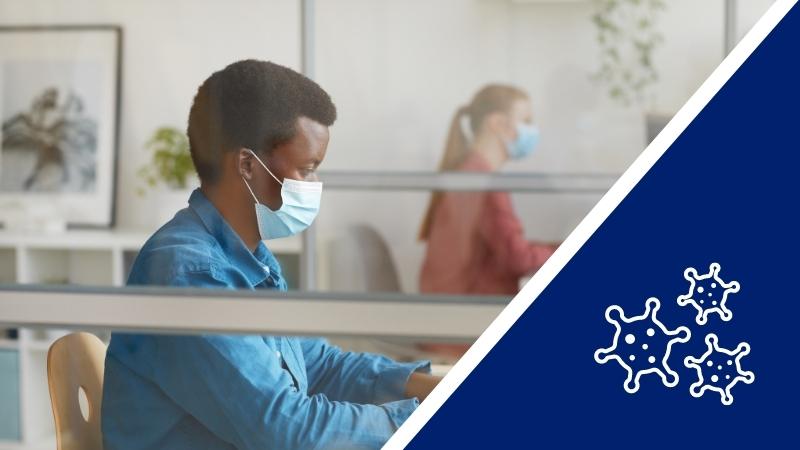 Todd Leeson, an attorney with Gentry Locke, joined Brown Edwards' construction symposium to discuss key COVID-19 workplace issues. His timing couldn't have been better as new guidance was released just hours before his presentation.
Path Out of the Pandemic
As you recall, over the summer cases spiked in the U.S. due to the delta variant and the fact that millions of persons remained unvaccinated. This was a large driving force behind President Biden's Path Out of the Pandemic action plan that he announced on September 9, 2021.
This plan included a new Executive Order 14042 requiring vaccinations for Federal Employees and Employees of Federal Contractors. It also directed OSHA to issue an Emergency Temporary Standard (ETS) to mandate vaccines for employers with 100 or more employees, with limited exceptions.
Executive Order 14042 – Ensuring Adequate COVID-19 Safety Protocols for Federal Contractors
The Executive Order (EO), issued on September 9, 2021, requires a clause in covered contracts mandating that Federal contractors and subcontractors comply with COVID-19 guidance to be published by the Safer Federal Workforce Task Force.
The clause must appear in:
Contracts renewed or extended on or after October 15, 2021
Contracts solicited on or after October 15, 2021
Contracts awarded on or after November 14, 2021
Safer Federal Workforce Task Force Guidance
The Safer Federal Workforce Task Force issued its guidance on September 24, 2021. The Task Force updated its guidance on or about November 1.
In previous guidance, the Task Force stated that covered employees must be fully vaccinated by December 8, 2021. On November 4, the Federal government pushed this new vaccination deadline to January 4, 2022.
Covered employees include any employee working "on or in connection with" government contract, including employees working remotely or who only indirectly support the contract such as those in HR, IT, and billing.
If an employee refuses to be vaccinated, their employer has the discretion to follow its policies and address the situation as it deems appropriate. An employer can choose to make accommodations for the employee such as remote work or can place on unpaid leave or end the employment depending on the circumstances.
This Federal guidance supersedes any contrary state or local laws except if the State has more-protective safety laws in place. In that case, the employer must comply with State law as well. For example, the state of Virginia has a law mandating masks be worn by all unvaccinated employees, at-risk employees, and vaccinated employees in areas of substantial or high community transmission.
Just because the deadline has been moved to January 2022 doesn't mean employers shouldn't be preparing now. The Task Force guidance stipulates that employers must:
Designate a person to coordinate COVID-19 workplace safety and monitor compliance with the guidance.
Determine employee vaccination status and review documents to confirm proof. Self-attestation is not sufficient.
Note: It is not a violation of HIIPA or the ADA for an employer to require an employee to disclose whether or not he/she has been vaccinated for COVID-19.
Ensure that all persons at the covered worksite comply with CDC guidelines for masking and physical distancing.
OSHA Emergency Temporary Standard (ETS)
President Biden's Path Out of the Pandemic action plan also directed OSHA to issue an Emergency Temporary Standard (ETS) to mandate vaccines for employers with 100 or more employees, with limited exceptions. OSHA is authorized to issue an ETS when "necessary" to address "grave danger" in the workplace.
As of Wednesday, November 3, 2021, the publication of the ETS was said to be "imminent." It is well known that the ETS will be subject to heavy litigation as there are already so many unanswered legal questions. The courts will analyze the "emergency" rules with some skepticism since they are not given the opportunity for public comment.
The ETS was announced on the morning of November 4 (a few hours before the symposium began!).
The ETS will require employers with 100 or more employees to ensure its employees are fully vaccinated OR produce a negative test result for unvaccinated employees at least weekly. Under the ETS, employers are not be required to pay for the weekly tests. [However, state laws may lead to a different answer.]
Employers are required to provide paid time off for the time it takes to get vaccinated or to recover if they are "under the weather post-vaccination".
Exceptions & Exemptions
Exemptions may be permitted for valid medical or religious reasons. If it is determined an employee meets the criteria for exemption, the employer must consider what, if any, accommodations may be available.
Employers are accorded some leeway to inquire further to question the religious nature or sincerity of a purported belief. The EEOC's COVID-19 Guidance is helpful in addressing many misconceptions about permissible questions/actions by employers. To this end, the EEOC updated its guidance on October 25, 2021, Vaccinations: religious Objections to COVID-19 Vaccine Mandates, located in Section L of the prior guidance.
Under the new guidance, employees may be asked to explain the religious nature of belief. If it is determined that the employee has a sincerely held religious belief, the analysis turns to how or whether an employer may be able to reasonably accommodate the unvaccinated employee.
The EEOC suggests employers should consider accommodations such as telework or reassignment but if the accommodation would pose an undue hardship, defined as more than a de minimus or minimal cost, the employer has the legal right to deny the accommodation. Costs include the burden on the conduct of the employer's business including the risk of spread of COVID-19 to other employees or the public.
State Laws
VIRGINIA
Virginia was the first state to enact a COVID-19 Emergency Temporary Standard in July 2020. Virginia updated its Standard effective September 8, 2021. The updated guidance established different rules for employers depending on the presence of certain categories of employees in the workforce and whether the workplace is considered one of "higher risk."
Employers can determine their locality's COVID-19 transmission rate by visiting the Virginia Department of Health's ("VDH") Level of Community Transmission website. As of the date of this article, almost every community in Virginia is at a "high" transmission level, triggering additional measures.
TENNESSEE
On Saturday, October 30, 2021, Tennessee Lawmakers passed the omnibus COVID-19 bill, currently under review by the Governor. Among other things, this bill prohibits a private business from requiring proof of vaccination status and from compelling, or otherwise taking adverse action against, a person to provide proof of vaccination if the person objects to receiving a COVID-19 vaccine for any reason. Private businesses may set their own mask policies. Furthermore, employees can sue if "injured" as a result of the vaccine mandate. Federal contractors can apply for exemption from compliance with the vaccine mandates. Governor Bill Lee has not stated whether he will sign, veto or choose not to act for 10 days, in which case this highly controversial bill would become law.
Laws surrounding COVID-19 are constantly changing. If you are uncertain about the law or how to implement it into your organization, please contact your attorney. Click here to watch Todd's full presentation on BE's YouTube channel.