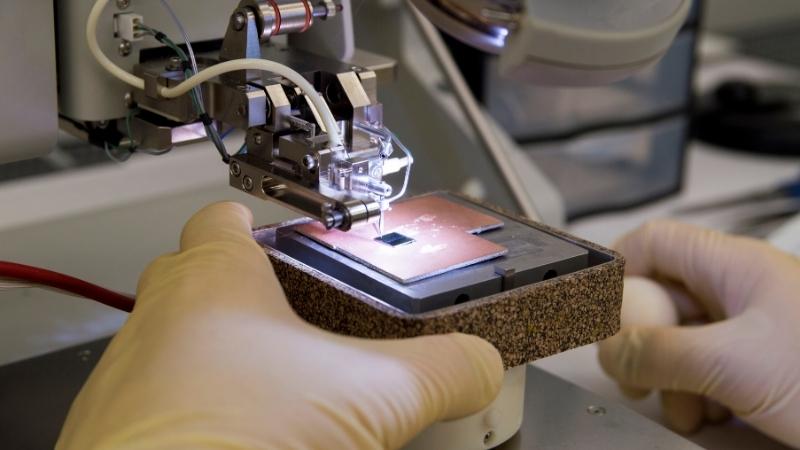 Your Guide to the CHIPS Act Application
On February 28, 2023, the U.S. Department of Commerce released the long-awaited Notice of Funding Opportunity (NOFO) for the CHIPS Incentive Program under the CHIPS for America Act. Chip fabrication, packaging and photomask companies can now begin preparing their applications for submission starting on March 31, 2023.
The NOFO offers clarity on aspects of the application that were previously ambiguous or unknown. We've summarized key information from the NOFO to help prospective applicants prepare competitive applications:
Application Highlights
National Security – Viable projects must advance national security directly or by enhancing the semiconductor ecosystem.
Government support is aligned with state incentives. The federal government can support up to 35% of a project's qualified capital expenditures through direct grants, loans and loan guarantees. This structure is in line with traditional economic development incentive awards from the states. The government expects that 5-15% of total project costs will come from direct grant funding, although this is a guideline and it has not placed formal limits on how much direct funding a specific project can receive aside from the $3 billion maximum support per project.
State and local incentives are required. In order to apply for federal CHIPS Act funding, applicants will need to secure state and local incentive offers prior to making a CHIPS application to the Department of Commerce. This will require coordinating closely with state and local officials starting early in the application process and ensuring that a commitment to undertake the project is not made prior to securing a CHIPS Act contract.
The government is taking a profit-sharing approach. In cases where the capital investment is $150 million or more, the federal government can negotiate to receive a piece of the project's profits, which would be rolled back into the funding pool to further support the CHIPS Act and its central goal of increasing national security by expanding the semiconductor ecosystem in the United States.
Securing Private Capital is key to an award. The commercial viability of a project is essential to securing support. Having the ability to finance a project independent of government support is essential. CHIPS funding should be seen as a gap filling and will be distributed as a reimbursement after milestones are satisfied.
Application Logistics & Process
The application is currently open for companies doing chip fabrication, packaging and photomask manufacturing. Further funding opportunities are forthcoming for semiconductor materials and equipment facilities in late spring 2023 and for R&D projects in fall 2023. Fabless chip company projects are considered R&D only and as such do not qualify for the first round of funding.
Total program funding is available up to $113.22 billion. Direct funding is available up to $38.22 billion and direct loan or guaranteed principal amounts are available up to $75 billion.
A Statement of Interest (SOI) is required. Applicants must submit an SOI at least 21 days prior to submitting their application or pre-application materials.
Applicants can submit a pre-application. If they choose to exercise this option, they will not be able to submit their full application until they receive written feedback from the Department of Commerce on their pre-application. The Department is actively encouraging dialogue with applicants.
Funds will be distributed in the form of reimbursements. Funds distributed from the CHIPS Act will be tied to milestones, which are highly negotiable and may include job creation, capital expenditure and facility construction benchmarks upon which payment will be released. Companies will need to source significant up-front investments.
The government is outsourcing some of its due diligence process to third-party firms. Applicants will be responsible for covering related fees and costs.
Controls, Restrictions & Claw Backs
Strong fraud prevention controls are in place. Over the past year, we have seen the government diligently prosecute cases of Paycheck Protection Program (PPP) fraud. The government is applying the same approach to the CHIPS Incentives Program, which requires applicants to certify the authenticity of information under criminal statutes.
There are restrictions on dividends and stock buybacks. The program does not allow any funds to be used for dividends or stock buybacks. Applicants must provide a five-year stock-buyback plan as part of the application process.
The program discourages forum shopping. Projects that merely involve moving materials from one U.S. state to another will be disfavored by the Department of Commerce unless companies can demonstrate a meaningful reason for the move. Meaningful reasons may include national security concerns, economic considerations or supply chain issues.
The government may recover funds in the case of national security concerns. The CHIPS Act states that if a successful applicant knowingly engages in joint research or technology licensing that represents a national security concern — including working with a foreign entity of concern or working on technology that in and of itself raises national security concerns — the government will recover the full amount awarded. Further guidance on fund usage with regards to national security concerns was released on March 21, 2023 by the Department of Commerce in the form of a

Notice of Proposed Rulemaking

. The proposed rule expands on the guidance already offered in the CHIPS Act. Some proposed rule:
Defines "significant transactions" as transactions of $100,000 or more with respect to expansion of semiconductor manufacturing capacity in foreign countries of concern
Prohibits expanding a legacy facility's production capacity in a foreign country of concern more than 10%
Classifies specific semiconductors as critical to national security
Requires a more restrictive threshold for logic chips than normally used under export controls
Clarifies restrictions around joint research and technology licensing with foreign entities of concerns.
Our Take:
The NOFO reveals important information on the underlying logic of the CHIPS Incentive Program. Regardless of further guidance or clarification released by the Department of Commerce, the following takeaways should inform applicants' approach to the application process:
Project proposals need to be detailed. Successful applications will need to include detailed plans that clearly and transparently demonstrate how funding will be used and the expected ROI. The projects that secure funding will be substantial and, most likely, already well-established.
Private capital is key. The profit-sharing approach allows private capital to act as the driver of the program, while the
The timeline is tight. Applicants will need to properly evaluate sites, align private capital plans and negotiate state and local incentives before taking their CHIPS for America Act application forward. Applicants should get started on this process immediately, as the program is highly competitive and funds are limited.
Compliance is crucial. The guidelines set forth by the government for recipients of CHIPS Act funding will be actively enforced. Applicants should consider conducting vulnerability assessments across all areas of their businesses during the application period. In preparation to receive funding, companies may want to evaluate and strengthen their current cybersecurity technology, internal controls and policies.
For prospective applicants, the message is clear: Now is the time to begin creating detailed project plans that include information on the role private capital will play, how they're partnering at the state and local level, how they will achieve expected ROI and how their projects will benefit their communities and the nation at large. Applicants who delay risk missing out on this historic funding opportunity.
Copyright © 2023 BDO USA, LLP. All rights reserved. www.bdo.com
Contact Us