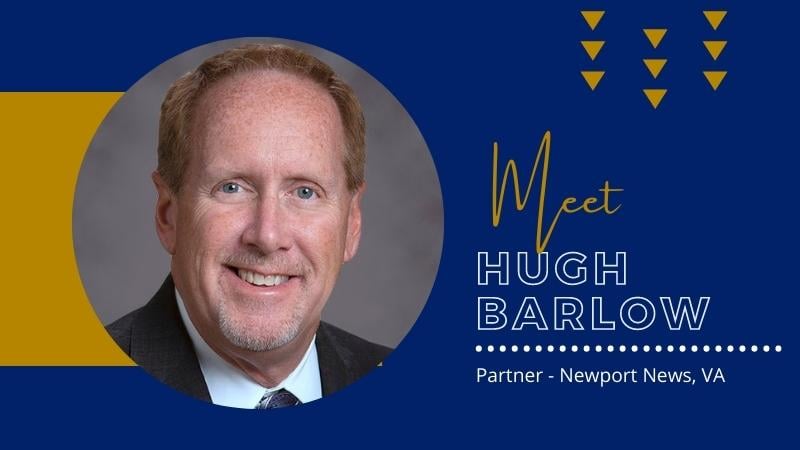 Meet Brown Edwards Partner, Hugh Barlow
Hugh joined the BE team in 2018 as part of the acquisition of DHG's Newport News office. He currently serves as the region's area coordinator and as a member of the Executive Committee.
For more than 35 years, Hugh has provided extensive tax planning and compliance services to clients in a variety of industries including government contractors, technology companies, physician/medical practices, automobile dealerships, real estate partnerships, and manufacturers.
He earned his Bachelor's degree from Old Dominion University and is a licensed CPA. He is a member of the American Institute of Certified Public Accountants (AICPA) and the Virginia Society of Certified Public Accountants (VSCPA)
Hugh is actively involved in the Newport News community and currently serves as the treasurer for the Newport News Police Foundation and the Newport News Education Foundation.
We interviewed Hugh to really get to know him, outside of his profession, and we were surprised to learn that he's a country boy at heart! His parents grew up in Surry County and up until a few years ago, he was an avid hunter and spent much of his time in the woods.
Where are you from and where did you grow up?
I have been a lifelong resident of the Virginia Peninsula, growing up in Newport News. Over the years, I have also lived in Isle of Wight County, York County, and now reside in Poquoson.
What are some of your hobbies?
I enjoy anything outdoors; hunting, sporting events, water activities, and spending time with my wife and kids. Yardwork is my therapy and allows me to get away from the everyday stresses of life.
What do you consider your best quality or trait?
From a business perspective, my attentiveness and attention to detail are my strongest traits. I give my clients 100%, whether that means being responsive to a sudden change or being proactive to address a need or concern.
What is the best advice you ever received and from who?
My whole life, my parents instilled in me the importance of honesty and integrity in my daily life. Even if I made a mistake, I was taught to own up to it and face the consequences. Doing so will pay off in the long run. I've lived my life along those lines and years later, I can honestly say those words have never steered me wrong.
If you could be a superhero what would be your superpower?
Since I never got into superheroes, I relied on some good, old-fashioned Google research. Captain America is the hero who stood out to me the most. He embodies the traits I admire most and strive for in my own life; honestly, courage, integrity, loyalty, and humility. Everyone turns to him for good judgment, despite the fact that his powers are no match to the abilities of his adversaries.
What is your favorite food?
I like all types of food but there is nothing better than a juicy steak or lamb chop.
What famous figure (living or dead) would you most like to meet and why?
I can't think of anyone I'd rather meet more than both of my grandfathers. They both passed away in my early years and although I have many great memories with my grandmothers, it would have been nice to have met them and have spent quality time together.
What do you think is your biggest contribution to the Brown Edwards team?
As mentioned before, I think one of my greatest contributions to Brown Edwards is my honesty and integrity (it's the Captain America in me). I strive to be fair, consistent, and approachable here in the Newport News office and throughout the firm. I may not be the most outspoken person, but I am extremely employee-oriented and will always be one of their strongest supporters.