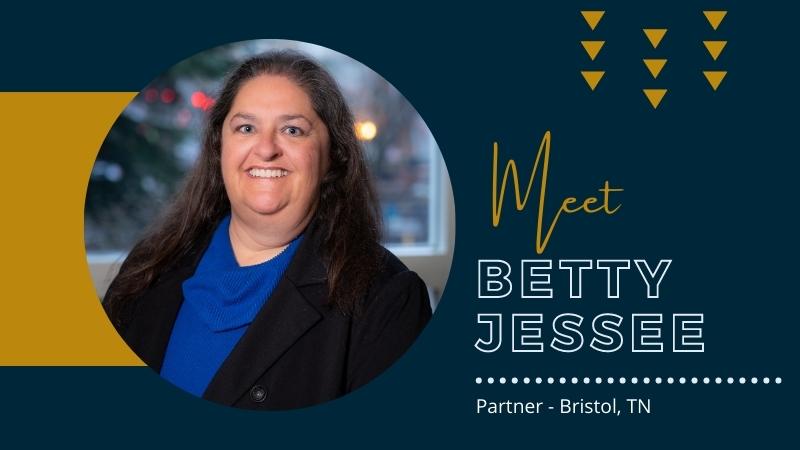 Partner Spotlight: Betty Jessee
Betty was originally hired as a seasonal employee in January 1997 for the Bristol office and hired on full-time after she completed her seasonal obligation.
We interviewed Betty to really get to know her, outside of her profession, and we were surprised to learn that she LOVES fast cars and big trucks! She even has a 1973 Plymouth Road Runner that she takes to car shows.
Where are you from and where did you grow up?
I was born and raised in Abingdon Virginia. I now enjoy country living a few miles away in Meadowview, VA
What are some of your hobbies?
I enjoy being out in nature observing animals in their natural environment. I would eventually like to obtain my wildlife rehabilitation license. I spend time with individuals and groups who have similar interests such as Virginia Master Naturalists where I have received training and education related to all things native to Virginia.
What's the last book you read or what is your favorite book/series you ever read and why

?
I'm currently reading "The Ballad of Songbirds and Snakes". My favorite author is James Patterson and I have read most of his books within each series. His books are filled with suspense and provide me with a great deal of entertainment.
What

's the next place on your travel bucket list and what will you do there?
That's a tough question. I love to travel but I really want to spend a couple of weeks in Alaska exploring the National parks and taking a train excursion across the state.
What is one food you can't live without and why?

?
Anything Mexican. Every day should be Taco Tuesday!
If you knew you were going to be stranded on a deserted island, what three things would you bring with you

?
My pets, my family and an endless supply of Diet Mountain Dew (yes, I'm addicted).
Why did you choose a career in public accounting and what do you enjoy most about it

?
I initially took an accounting class in High School and immediately knew that this was the career I wanted to explore. I enjoy the challenge of finding creative ways to assist clients and the interaction that I have with them.