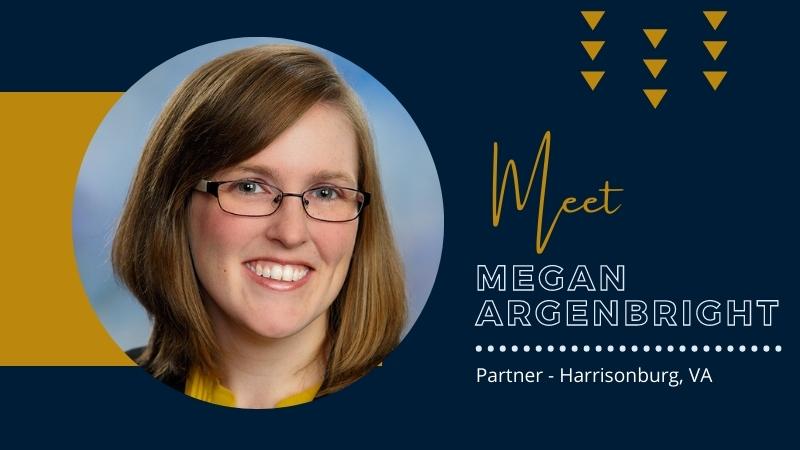 Megan joined the BE team as an intern in the Harrisonburg, VA office in 2006, and in 2021, she was promoted to partner!
Megan's area of expertise lies in providing audit and compliance services to government entities but she is also involved in a wide range of other industries including non-profits, manufacturers, and healthcare entities.
She earned her Bachelor's degree and Master's of Accountancy from JMU and is a member of the American Institute of Certified Public Accountants (AICPA), the Virginia Society of Certified Public Accountants (VSCPA), and the Virginia Government Finance Officers Association (VGFOA).
Megan values her charitable work and continues to support her community through the Harrisonburg-Rockingham Chamber of Commerce and the Explore More Discovery Museum.
At the end of 2021, the Shenandoah Valley Business Journal awarded Megan as a member of the 10 Under 40 class of 2022.
We interviewed Megan to really get to know her, outside of her profession, and we were surprised to learn that she is a twin and she will make any excuse to celebrate with a theme party!
Where are you from and where did you grow up?
I grew up in New Kent, Virginia, just East of Richmond. My husband, daughter, and I live in Waynesboro with our Yorkie, Atlas. We love the mountains and take hikes regularly.
What are some of your hobbies?
I enjoy reading, puzzles and games. We have game nights often and even do virtual game nights with family that doesn't live close by.
What do you consider your best quality or trait?
I am an extremely organized and efficient person and these traits have served me well in my chosen profession. We have a running joke in the office that I'll be writing a 10-page book entitled "How to Live Your Most Efficient Life". It can't be more than 10 pages because that wouldn't be efficient.
What is the best advice you ever received and from who?
A long time ago, someone told me that life is a series of choices and since that day, those words have stuck with me. If something isn't working out, make choices and take steps to change it. It doesn't work in every situation, but it's a great reminder.
If you could be a superhero what would be your superpower?
This is a tough question because there are many possibilities but I would have to say the ability to portal. I would never have to travel; I'd just instantly be wherever I wanted to be.
What is your favorite food?
Without a doubt, Italian Subs. I also enjoy Starbucks Strawberry Acai Refreshers (light ice, no berries).
What famous figure (living or dead) would you most like to meet and why?
I would love to meet Ruth Bader Ginsburg. I admire the work she did to impact gender equality that affected the lives of so many women.
What do you think is your biggest contribution to the Brown Edwards team?
I work hard but my biggest contribution is empowering those around me to succeed through mentorship and setting a good example. Brown Edwards continues to grow because we hire motivated individuals and encourage them to reach their full potential.