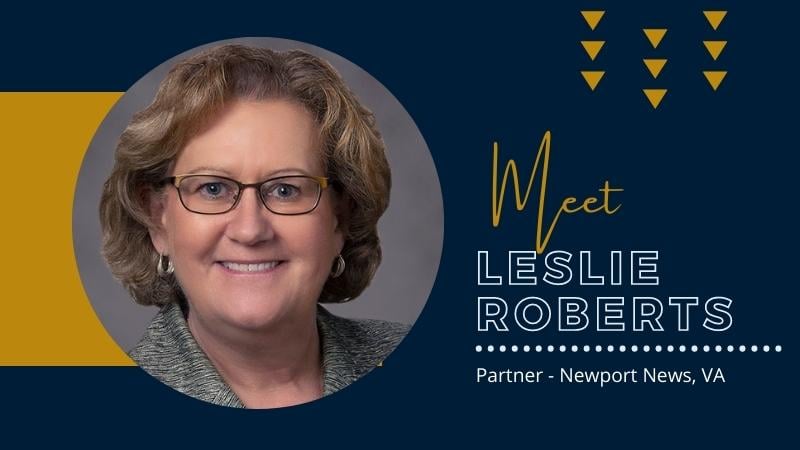 Leslie joined the BE team in 2018 as part of the acquisition of DHG's Newport News office.
For more than 35 years, she has provided assurance services for clients primarily in the not-for-profit, governmental, and higher education industries in the Hampton Roads area and the Richmond area.
She earned her Bachelor's degree from the University of North Carolina at Chapel Hill and is a licensed CPA in Virginia and North Carolina. She is a member of the American Institute of Certified Public Accountants (AICPA) and the Virginia Society of Certified Public Accountants (VSCPA).
Leslie is actively involved in the professional community and is a member of the Peninsula Women's Network, the Carolina Alumni Association, and the Tidewater Women's Network. In addition, Virginia Business Magazine has designated Leslie as a "Super CPA" multiple times.
We interviewed Leslie to really get to know her, outside of her profession, and we were surprised to learn that she is a daredevil! She has been zip-lining, jet skiing, and sky diving! She said she is up for anything fun, exciting, and FAST!
Where are you from and where did you grow up?
I grew up in Poquoson, VA (about 10-15 minutes from the Brown Edwards NPN office). All of my immediate and extended family are from Poquoson and has been home to my family for many generations. However, after my husband and I graduated college, we settled in the Richmond area for more than 20 years. I only got back to my roots in the Hampton Roads area about 10 years ago.
What are some of your hobbies?
Family is very important to me and my favorite activity is spending time with my grandchildren. I have been blessed with four of them and they are SO much fun!
I also enjoy reading and following UNC sports. Both my husband and I are UNC alum so to say we are Tarheel fans is a huge understatement!
What do you consider your best quality or trait?
Without a doubt, my best quality is my love of people and building relationships. It has been my great pleasure to mentor and coach many bright young adults throughout my career and I am proud of the professionals they have become.
What is the best advice you ever received and from who?
My father told me "If it's worth doing, it's probably going to be hard." and boy was he right!
If you could be a superhero what would be your superpower?
The daredevil in me would LOVE to fly!!!
What is your favorite food?
Pizza – no contest.
What famous figure (living or dead) would you most like to meet and why?
Martin Luther King Jr. had a great vision and outlook and I would like to get to know him.
What do you think is your biggest contribution to the Brown Edwards team?
My love of people paired with my passion to better my chosen field of profession has guided me down the path to lead the initiative to improve diversity, equity, and inclusion at Brown Edwards. Last year, I took on the role of DEI Task Force leader at Brown Edwards, and together we are shaping the future of our firm.