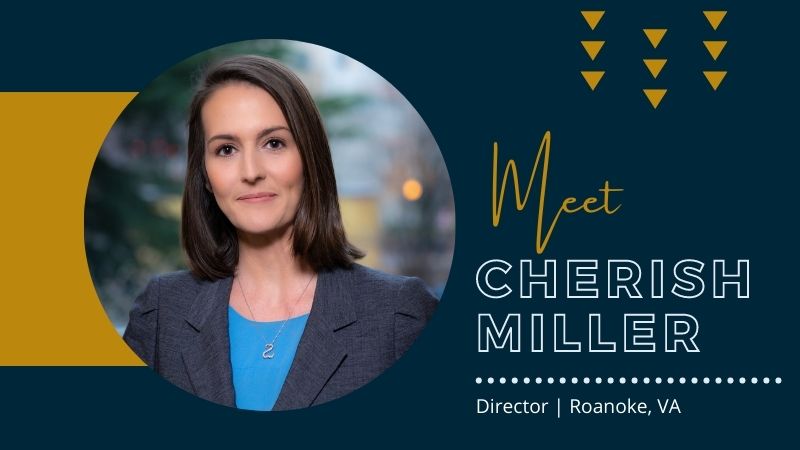 Meet BE Director, Cherish Miller
Cherish started her career at BE in 2010 as an Associate in the Roanoke Office and in 2023, was promoted to Director.
She earned her Bachelor's degree in accounting & information systems Summa Cum Laude from Virginia Tech and her Master's in Accounting and Information Systems from Virginia Tech. She is also a Certified Public Accountant (CPA), and a member of the American Institute of Certified Public Accountants (AICPA), the Virginia Society of Certified Public Accountants (VSCPA), and the National Association of College and University Business Officers (NACUBO).
We interviewed Cherish to really get to know her, outside of her profession, and we were surprised to learn that she loves to water ski! Her dad had her on the water at a young age and most weekends during the summer you can still find her behind the boat every chance she gets.
Where are you from and where did you grow up?
I was born and raised in the Roanoke Valley. We're surrounded by so much natural beauty here; I try to never take that for granted.
What are some of your hobbies?
I spend most of my free time watching my two boys play sports and I truly enjoy every minute of it! When I'm not busy with their sports, I enjoy spending time at Smith Mountain Lake, going to VT football games and wrestling matches, traveling, and working out.
What's the next place on your travel bucket list and what will you do there?

?
Next on my travel bucket list is Italy & Greece. There are so many places I want to see: Rome, Venice, Pisa, Sicily, Athens, etc. and so much good food to try!
If you starred in your own hero action movie, what would be your superhero name and superpower

?
My superhero name would be Reminisce and my ability would be to go back in time and relive events and favorite memories.
What's the last book you read or what is your favorite book/series you ever read and why

?
My favorite series I've read is The Hunger Games.
What is one food you can't live without and why?

?
Chocolate! It's delicious and probably the only food I could eat every day and not grow tired of.
If you knew you were going to be stranded on a deserted island, what three things would you bring with you

?
Firestarter, iron pot, machete.
Why did you choose a career in public accounting?
There was a lot of opportunity in public accounting coming out of college. What keeps me in public accounting is the variety of work (no two days are the same) and the people I get to work with.