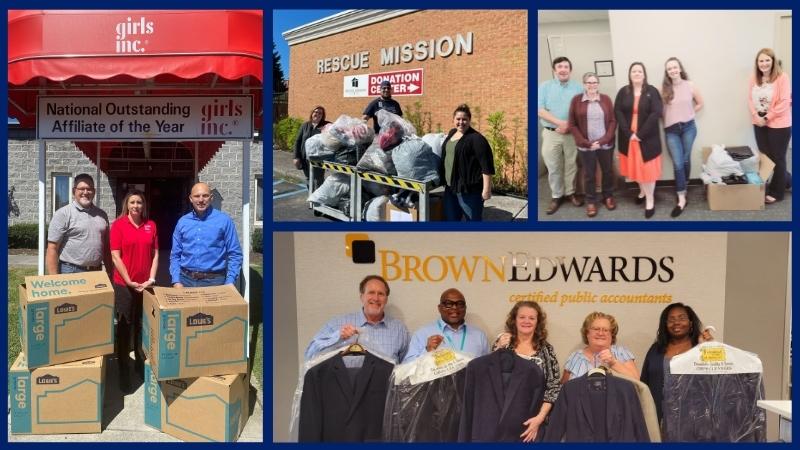 First Annual Business Clothing Drive
Over the last several years, there has been a shift towards a more flexible culture at Brown Edwards. We're providing our team members more opportunities to work remotely and our dress for your day philosophy allows our employees to dress more casually when they are not meeting with clients. With this enhanced flexibility, our firm saw another opportunity to give back to our local communities through a firm-wide clothing drive.
Team members from our 12 offices gathered up their gently used business attire and brought it to our offices where it was packaged up and delivered to local organizations such as the Roanoke Rescue Mission, Girls Inc. of Bristol, and Virginia Tech Career Outfitters. Many people are struggling during these hard times, and having professional-looking clean clothes and shoes is something that isn't taken for granted. When planning our clothing drive, we coordinated with Amy Barker Phillips, President, and CEO of Girls Inc. of Bristol, to determine the best way we could impact the community. "Our families are so appreciative of any help with clothing, for them and their children. It is really rewarding to us when we are able to help with this need that so many don't realize is out there. Please let everyone know how much this means to us and our families."
It's important for young professionals to put their best foot forward and make a good first impression during their job search, which includes dressing for the part. We were thrilled to be able to participate in the Virginia Tech Career Outfitters service project and contribute to the success of young business professionals. According to Virginia Tech's Director of Career and Professional Development, Donna Ratcliffe, "Many of our students cannot afford professional attire, which puts them at a major disadvantage when competing for internships, co-ops, and post-graduation jobs."
Part of our firm's culture has always been to give back to our communities and support local businesses and organizations. Thanks to the efforts and donations from BE team members, we were able to donate 25 boxes of clothing and shoes throughout our communities. Many of our initiatives and charitable events are suggestions from our passionate team members who personally volunteer for an organization. Our firm strives to foster a safe work environment where diversity is welcome and to find ways to attract, develop, and retain exceptional individuals representing the diverse communities where we work and live. We believe we are strongest when we genuinely listen to and act upon, the thoughts and opinions of individuals from all walks of life with different life experiences. This openness leads to a stronger, more vibrant, workplace that will lead to even greater success for the firm and for our associates.