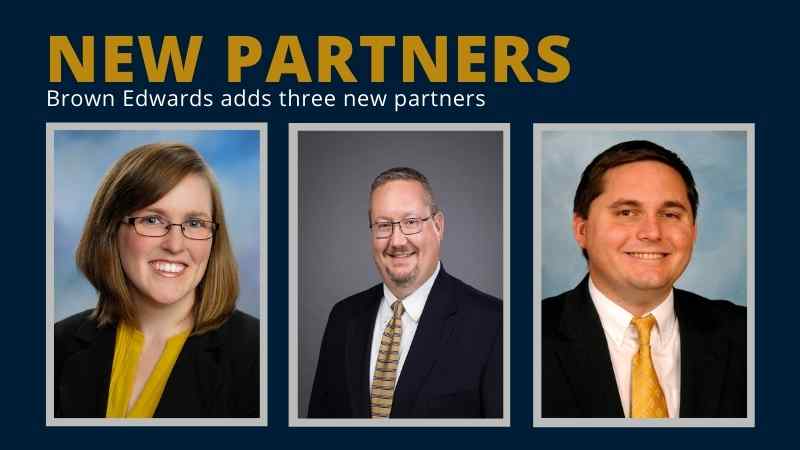 Brown Edwards is pleased to announce the addition of three new partners to the Firm; Megan Argenbright, Jared Brown and Matt Heatwole.
"Today, I am pleased to announce that we have added three new partners to the Firm. I am proud of the hard work, tenacity and dedication shown by these newly admitted partners throughout their tenure at BE. Collectively, they have delivered significant results for our firm and clients, while growing their careers and delivering 5-star client service with a "One Firm" mindset."

Jason Hartman, CEO Brown Edwards
Megan Argenbright
Megan began her public accounting career with BE after graduating from JMU in 2006. She serves as the Harrisonburg Area Coordinator and has been a Director since 2017. Megan specializes in audit services, primarily to municipalities, serving most recently as co-lead on CARES funding.

She also has significant experience with non-profits, healthcare and small businesses. Megan regularly presents accounting updates, provides internal staff training, and serves as a model of work/life balance within our profession. She serves her community as an active member of the Board of Directors of the Children's Museum, past member of the local Young Professionals group and a graduate of the Harrisonburg-Rockingham Community Leadership and BOLD programs.
Jared Brown
Jared joined Brown Edwards as a Director after the merger of his prior firm in 2015. He graduated from East Tennessee State University and is licensed in Tennessee and Virginia. Jared's concentration is related to small business compilations, reviews, and tax returns.
He also serves non-profits and manufacturing entities as well as assisting with the firm's automotive and SALT niche. He has embraced our One-Firm initiative by actively providing second detailed and reviews for compilations and other services for multiple BE offices. He also brings excellent computer skills and a team first mindset to mentoring others that he has brought in to work with his top clients. Jared is an active speaker with VSCPA and regularly participates in client focused seminars on various topics. He also serves his church community as a leader in the elementary age group.
Matt Heatwole
Matt joined us in 2010 after being with a national firm for 7 years. He became a Director at BE in 2017and holds a Master of Accounting and Information Systems degree from Virginia Tech. While a majority of his time is invested in municipalities and supporting that niche through training, scheduling and speaking at events, he has a variety of other audit and assurance clients including, construction entities, cooperatives, and not-for-profits/foundations. Matt is innovative in his approach to client service having developed the setup of remote audit teams in large conference rooms for a number of engagements; increasing the efficiency and effectiveness of those client engagements.
He also willingly mentors many of the in-charge associates in the Harrisonburg office. Matt serves his community as President of the Board of Mercy House, past board member of the Shenandoah Valley Builders Association, an active Rotarian, and a graduate of the Harrisonburg-Rockingham Community Leadership and BOLD programs.
We are very excited to welcome these individuals to the partnership and look forward to celebrating their many career achievements in the future.